An unusual change or any new spot in the body that remains for two or more weeks must be brought to the doctor's observation. Skin cancer often does not show any symptoms in its early stages. But, as soon as it is identified and examined, it needs to be treated well.
Skin cancer usually grows in the skin areas that are more exposed to sunlight. Its symptoms differ depending on its type and location on the skin. Also, it is noticeable in all sorts of individuals, but most of the time, light-colored skin people are at significant risk of cancer. Skin cancer symptoms may include the following:
A new patch on the skin. 

Spot marks that are painful and itchy. 

Red-colored bump on the skin. 

A scaly or red spot that you can feel. 

Uneven scar-like growth on the skin. 

Unhealed sore that develops a crust. 

A scar with an imperfect border and yellow-white waxy area. 
What is Skin Cancer?
Skin cancer is an uncommon growth of the skin cells that develop in the epidermis (the outer layer of the skin). It is caused by DNA damage due to changes in the DNA sequence and left unrepaired. Any change in the DNA sequence is called a mutation, leading to the rapid increase of damaged skin cells. This rapid multiplication further for the malignant tumors. Most of the time, these are visible on the arms, hands, face, and chest. 
It can develop in any person. Even if you do not get exposed to the sun, you are also at risk of it. You can find skin cancer symptoms on the scalp, ears, neck, lips, genitals, the bottom of the feet, and under the fingernails. 
What Are Skin Cancer Symptoms & Types
There are four types of cancer which depend on their location and where they begin. Below are the details of the various symptoms related to its particular types. 
Actinic Keratosis
It is a scaly lesion with a hard outer layer known as a pre-cancer. If not treated, it will lead to fatal cancer. This type of cancer appears on various body parts such as the face, lips, ears, scalp, forearms, shoulders, back of the hand, neck, etc. 
The pre-cancer lesions are so small that they are only found by touch, not sight. These lesions can be of various colors like pink, dark tan, flesh tone, red, light tan, or a combination of multiple colors. If these lesions are not treated, there is an up to 10 percent chance that it becomes Squamous Cell Carcinoma (SCC). 
Basal Cell Carcinoma
BCCs are typical growth that develops in the skin's basal cells. These skin cancer symptoms are found at the bottom of the outermost layer of the skin. The growths are visible in the area exposed to sunlight, including the neck, face, ears, back, shoulder, and scalp. 
BCCs are mostly the outcome of extensive exposure to ultraviolet rays. It is vital to detect this type of skin cancer symptoms in the early stage as its spread may be fatal. 
The common signs of BCCs cancer are
Sore in any body part that does not head even after 7-10 days. 

Itchy red marks on the skin that hurts or bleeds quickly. 

An elevated pink growth with zigzag lines. 

A bleeding sore that heals and returns after some time. 

Pink, red, or white bump on light skin, whereas tan, brown, or black on dark skin. 
As you detect the BCCs signs in its early stages, it tends to be treated quickly. Also, the growth of BCCs cancer is slow, so it is less likely to spread to other organs if you detect it early. But, it should not be ignored whenever you encounter any of its signs. 
Squamous Cell Carcinoma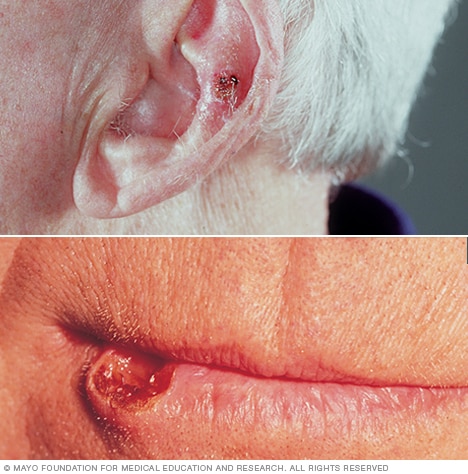 SCC is an out-of-control growth in the epidermis's thin, flat cells. It is often the result of long-term exposure to the sun's UV rays and tanning beds. The common areas of the body include the scalp, face, neck, ears, and hands. 
These parts get sun-damaged easily and show signs, such as age spots and wrinkles. Unlike BCCs, SCC multiplies and spreads if not found and treated in early phases. 
Below are various symptoms that indicate SCC's presence in a person
Light skin-colored or red to burgundy, scaly patches. 

Open sore that does not heal, crust, and bleed. 

A soft, elevated growth with an indent in the middle that bleeds. 

Wart-like growth on the skin but bleeds and crusts. 
An SCC is an abnormal growth that is soft to feel and causes itching. It may also irritate the skin and make you feel like scratching the area. It would be best to avoid it as it may lead to a skin infection. Which, when left untreated, raises the risk of infection and leads it to grow larger. In rare cases, it can often spread to other parts of the body or other organs. 
Also Read:- Lung Cancer Treatment: Types, Survival Rate, And Risk Factors
Melanoma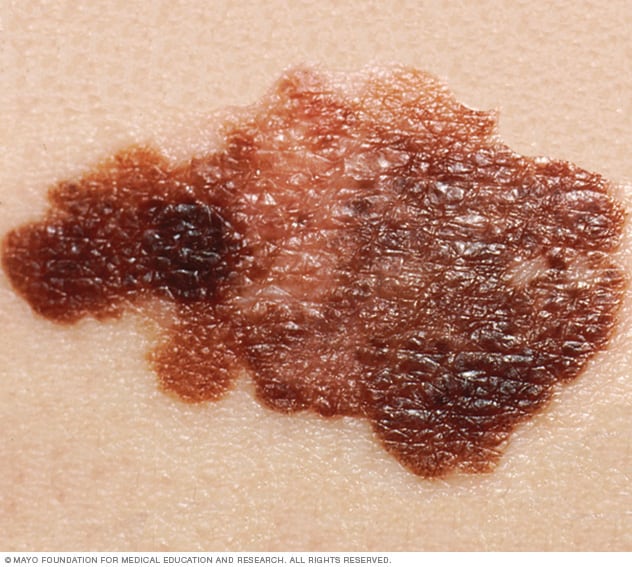 This cancer grows from skin cells that are in charge of producing melanin in the body. The melanin pigment gives color to the skin. It often develops as a mole or something that grows from them. This type of skin cancer symptom is found in any body area, including the areas not exposed to the skin. 
You can even find the signs of Melanoma in your eyes as well. Other parts that show its effects include the palms of the hand, nails, soles of the feet, lower legs, etc. It is among the fatal cancer types of the three. However, it can be cured when found in the early stages. The vast exposure to the sun and long-term use of tanning beds raise the risk of this cancer. 
Below are skin cancer symptoms that you can look for to treat in the early phase
Large brown colored patch with many other small spots. 

A mole that bleeds and changes in size and color. 

Painful, itchy, or burning lesions of the skin. 

A red, white, pink, and blue lesion with a zigzag border. 

Dark-colored lesions on the inner lining of the mouth, vagina, anus, or nose. 
The ABCDE rule tells the type of signs you can look for to identify cancer
Asymmetry: Uneven shape and size

Border: Blur or uneven shape edges of the lesion

Color: Mole with various colors

Diameter: Larger than 6 mm size 

Evolution: Enlarging in shape and size, changing in color
Merkel Cell Carcinoma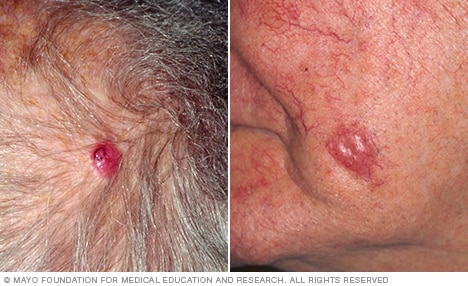 Above you have seen the three common types of cancer, but MCC is rare. It is a tumor that appears as a painless region found in sun-exposed areas of the skin. Mostly, it is visible on the head and neck of a person but frequently on the eyelids. It most often occurs in light-colored people over the age of 50. The signs of the MCCs spread fastly all over the body, so it is vital to detect them as soon as possible in the early stages. 
How to prevent skin cancer and its symptoms?
For a long time, researchers have been finding ways to prevent skin cancer symptoms. But, there is no way to avoid them entirely; you can only lower the risk. However, some basic daily steps can help reduce the chances of having cancer. 
It includes reducing the time spent in the sun and avoiding indoor tanning. It is necessary for people of all ages to follow the below-mentioned prevention steps to keep skin cancer at bay. 
Avoiding Direct Sun
Avoid direct and long-term exposure to the sun from 10 AM to 4 PM. Wear gloves, marks, long length clothes covering most of the body's parts. Also include a wide-brimmed hat to cover the neck, ear, and face. Wear clothes with a UV Protection Factor (UPF); it may protect the skin in a better way. Even sunglasses are better to protect your eyes from the sun's harmful rays. 
Sunscreen Is The Key
Use a high SPF protection sunscreen to protect skin from UVA and UVB sun rays. It is good to use 30 plus SPF cream. Reapply the sunscreen every 2 hours to the entire body to protect your skin in a better way. Also, reapply it after sweating. 
No To Unnatural Tanning
Avoid excess sunbathing, tanning beds, sun lamps, or tanning salons. These raise the chance of cancer in the body. 
Regular Examinations
Visit the health care experts or self-examine the skin regularly for any unusual changes in the body that can be a sign of cancer. 
Take Vitamin B3
Always ask a doctor before taking any medicine. Some researchers have found that taking any form of vitamin B3, or 500mg of nicotinamide as a tablet twice a day, has reduced cancers by 23%, except for Melanoma in people with more than two old cancers. 
What are the treatments available for Skin Cancer?
The cancer treatment includes a multidisciplinary team of surgeons, dermatologists, oncologists, etc., and other health care staff. The treatment varies depending on the various factors of cancer, such as location, size, and side effects. 
While giving the treatment, the doctor must also take care of the preferences and overall health of the patient. Proper shared decision-making helps doctors to understand the patients and their problems. Accordingly, you will be given better treatments to cure cancer successfully. 
Surgery
Surgery is one way to treat cancer; it is a procedure to remove cancers from the skin during surgery. This method depends on the type of cancer and the location and size of the lesion. 
Some treatments include methods to numb the skin using local anesthesia, whereas some include biopsies to be performed in a hospital operating room using local or/and general anesthesia. This type of treatment is most suitable for Merkel cell cancer. 
Radiation Therapy
A therapy that involves using high-energy rays to destroy the cells of cancer. This method is suitable for treating places such as eyelids, ears, and nose tips. It is also appropriate for people who do not want surgery as a treatment. 
This therapy is also helpful to people who have undergone surgery to prevent cancer from returning. In this case, the radiation is given to the outer body of the person from a machine. 
Systemic Therapy
It is a way to destroy the cells of cancer using medications. It involves treatment via medications usually prescribed by the oncologist. The medication helps reach the cells of cancer via the bloodstream. The various types of systemic therapy include- Chemotherapy, Targeted therapy, and Immunotherapy. 
At a time, a person can receive one type of therapy or several therapies simultaneously. It can also become a part of a surgery or radiation therapy treatment plan. Always talk with a doctor about the best treatment therapies for the best result. 
Conclusion
You got the idea that skin cancer can develop in any person. However, you can take some vital steps to prevent it. Now, you know what are Skin Cancer symptoms, their types, and the types of treatments. Also, early detection and a personalized treatment plan are the keys to getting rid of the disease.
Find the best treatment for Skin cancer with University Cancer Centers and get expert advice and care. We have years of experience treating different types of cancers and are known among our patients to provide the best-personalized care. As early detection is the key to effective skin cancer treatment, we also provide free skin cancer screening. Thus, if you have any doubts or consider needing to be tested, book an appointment through our website or call us at (713)-474-1414.
Frequently Asked Questions
Q1- What are the various surgeries involved in cancer treatment?
Ans- For cancer treatments, multiple types of surgeries are available. Some of these surgeries are- wide excision, lymph node biopsy, and reconstructive surgeries. Also, the surgery varies depending on cancer type, location, shape, and size.
Q2- How to check for symptoms of skin cancer?
Ans- A regular skin examination for unusual growth is vital to check the symptoms. It is a way to find and treat cancers in their early stages. Look for the change in shape, color, and size of the existing patch on the skin. If you find anything uncommon on your skin, visit the doctor for further examination.
Q3- What are some of the rare forms of skin cancers?
Ans- There are many types of cancers that you can discover in various parts of the body. Some of the rare cancers are Kaposi sarcoma, Merkel cell carcinoma, etc. As these are rare, people are less aware of them.
Q4- Are light-colored people more prone to cancers?
Ans- Cancer can grow in any person, no matter what type of skin color you have. Whether you have light-colored or dark-colored skin, it can develop in anyone. But, it has been seen that people with light skin tones are at higher risk of cancers.
Q5- Which is the best treatment for skin cancers?
Ans- When suffering from cancer, the doctor checks your symptoms. After that, they decide on the treatment plan according to the signs. It can be surgery, radiation therapy, or other local therapies. It can even include therapies using medications.